Pharmaceutical
who advances drug delivery? we do.
Our pharmaceutical team prides itself on advancing drug delivery with sophisticated science-based solutions. Our global centers of excellence contain the latest equipment and our research scientists and formulators are ready to work with you from concept to commercialization.
always solving™ for formulators, manufacturers and patients
We meet formulators' needs by providing an unparalleled range of excipients and technologies, as well as longstanding polymer expertise and technical support for oral solids, liquids, topical and parenteral dosage forms. Our solutions include:
aqualon™ cmc BET
aquarius™ film coating systems
plasdone™ copovidone
benecel™ hpmc
klucel™ hpc
plasdone™ povidone
polyplasdone™ crospovidone
viatel™ bioresorbable polymers
CAVAMAX*, cavitron™, CAVISOL* cyclodextrins
Ashland can help you bind, coat, dissolve and deliver solutions that may yield better patient outcomes.


learn more about our products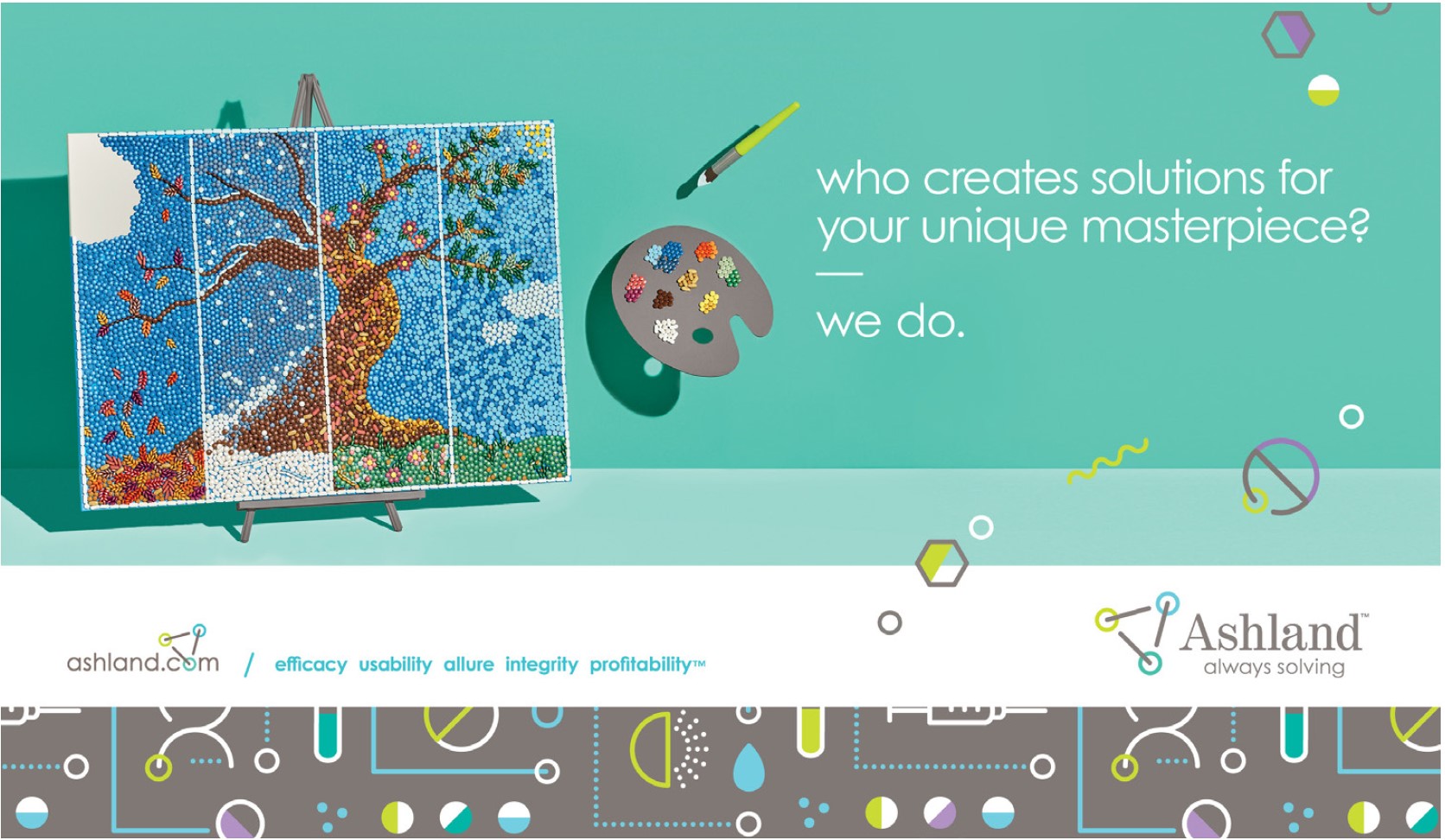 our latest solutions
in the news
Ashland announced on March 4, 2021 that it has completed the expansion of its Viatel bioresorbable polymer manufacturing site and has transferred its R&D activities from Dublin, Ireland, to the National Science Park in Mullingar, Ireland. Read the story here.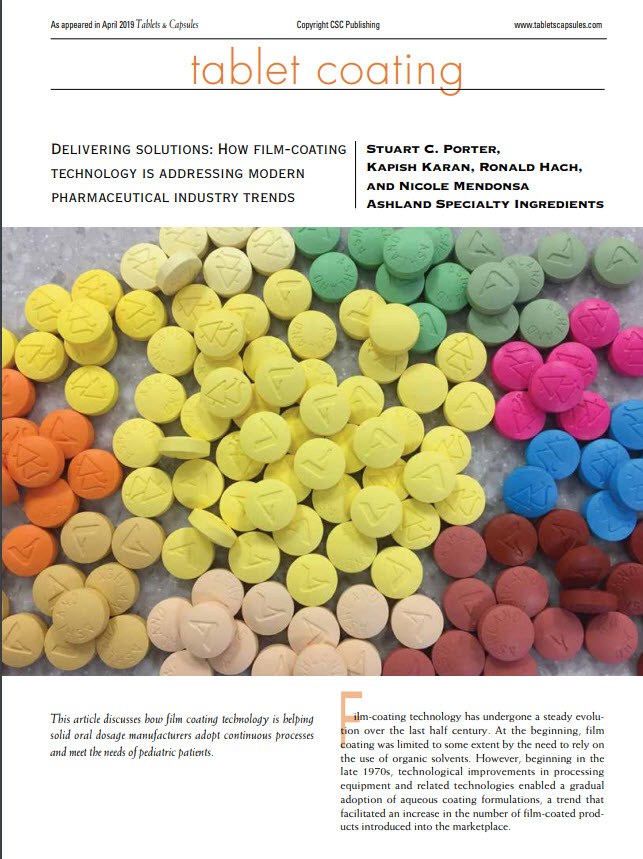 Who has film coating solutions that address modern pharmaceutical industry trends? We do. Ashland solvers Kapish K., Ron H., and Nicole M. discuss how film coating technology is helping oral solid dosage manufacturers adopt continuous processes and meet the needs of pediatric patients.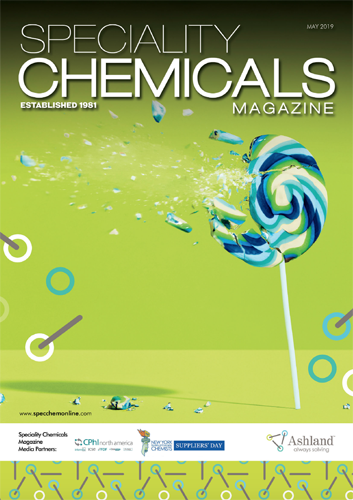 Who is the cover story of Speciality Chemicals Magazine, May issue? We are. SCM talked to John Carney, Ashland solver and vice president, pharmaceutical and agriculture.
related industries
oral solid dosage form

prescriptions for successful solutions

Our knowledge of the structure-function relationships of pharmaceutical polymers, combined with our extensive product line can help you bind, coat, dissolve, and effectively deliver complex drug molecules where and when they're needed.

Our solutions include:

Increasing the solubility of active pharmaceutical ingredients
Designing modified-release products to meet targeted release profiles
Minimizing tablet size while maintaining drug load
Improving disintegration time of orally disintegrating tablets
Overcoming challenges of continuous manufacturing technology

Our experts around the world can also provide:

formulation and process development for solid dispersion technologies (hot melt extrusion and spray drying);
granulation technologies (fluid bed, high shear, hot-melt extrusion)
controlled-release technologies (release-profile prediction and simulation, melt extrusion, particle and pellet coating, drug layering, matrix tablets)
compaction simulation
coating and stability studies

Ongoing research provides a foundation for advanced technical solutions to address formulation and manufacturing challenges. Ashland provides formulators with unique opportunities for research and development collaboration.

Read More >

oral liquid dosage form

helping the medicine go down

Effective drug delivery in liquid form poses some unique challenges with rheology, texture, consistency and stability at the top of the list. Ashland's promise - always solving™ - inspires our goal of willing to work with you to find new sophisticated solutions to advance drug delivery. With our extensive polymer portfolio, R&D capabilities and testing facilities combined with your complex drug molecues, we can yield solutions that both deliver and improve the bioavailability of needed medication.

Targeted rheology, texture and stabilization in oral-liquid dosage forms play vital roles in delivery of the pharmaceutical components. The water binding and viscosity modification capacities of many of Ashland's polymers thicken and suspend in liquids, gels, syrups and semi-solid dosage forms for improved patient satisfaction and shelf life of products.

Read More >

parenteral dosage form

solutions that are more than skin deep

Bioresorbable polymers have been commercialized for more than 50 years, however, until now, no manufacturer has offered a single source of three key excipients used to formulate these revolutionary drug delivery systems that are designed to improve patients' lives.

With the addition of Viatel™ bioresorbable polymers, Ashland provides a comprehensive line of products for parenteral, controlled release drug delivery. Complementary excipients include Aqualon™ CMC PH BET sodium carboxymethyl cellulose, a suspending agent for two-component systems; and Pharmasolve™ n-methyl-2-pyrrolidone, a versatile solubilizer for one-component systems.

Parenteral formulations present unique challenges to formulators. Ashland has products that can help address these challenges.

Questions? Sample request?

Read More >