Ashland STEM
Ashland puts a unique spin on the typical Science, Technology, Engineering and Mathematics (STEM) program by framing its efforts within the company's larger purpose to responsibly solve for a better world.

responsible
Ashland's STEM programs seek to instill in students their own sense of responsibility for people and planet by showing the impact of these disciplines on real world challenges, the solutions Ashland delivers and the skills it takes to thrive in a challenging landscape that must reconcile the needs of people, planet and profit. That means real world examples in class programming, face-to-face discussions with problem-solvers from every Ashland discipline from Research and Development, procurement and operations, marketing and sales and every function in between. Each employee has a role to play in the Ashland's responsibilities to shareholders, communities, customers and consumers and Ashland's STEM programs bring those challenges to life for students in every corner of the world.

solving
That inherent curiosity of Ashland's culture is on full display in our STEM programs, where students are shown how different individuals and disciplines come together to address a challenge. Teamwork, collaboration, and community engagement are a part of every Ashland STEM program, all for an integrated purpose that students can understand and embrace — the need to make the world healthier and safer for everyone.

better world
The legacy of Ashland's solvers is inspiring. From helping to create new medicines and treatments that allow people to live better lives to more sustainable and durable paints and coatings and a range of natural, nature-derived and biodegradable personal care products, students get to see how a comprehensive business purpose helps shape the day-to-day and long-term careers of a wide range of Ashland employees, giving our solvers a sense of satisfaction that they are having a lasting and positive impact on the world. That sense of pride and legacy is even more powerfully delivered by recently hired employees who can show how they were attracted to the STEM fields and to Ashland itself by the sense of pride and purpose that come from a collaborative and dynamic business strategy.
learn about our regional STEM programs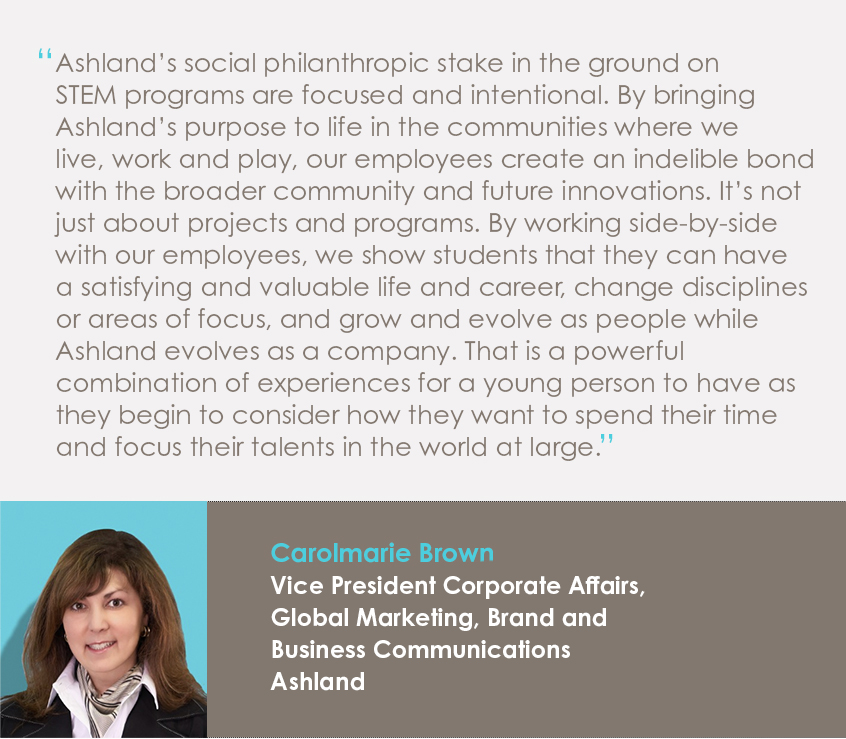 learn about our global STEM programs
The Nature Conservancy
Youth STEM Nature Lab
Hub for youth curriculum to learn how nature works while bringing greater equity to environmental education; provides teachers, students, and families with customizable, interactive lesson plans to explore and understand nature.
greenlight for girls (g4g)
Hands-on workshops connect thousands of girls annually with role models to ignite a passion for science and inspire girls to pursue STEM careers.

learn about our regional STEM programs