specialty additives
who takes leaps, but always looks first? we do.
our promise
We are passionate, tenacious solvers who thrive on developing practical, innovative, and elegant solutions to complex problems in applied chemistry, always pushing the boundaries of what's possible, and advancing the competitiveness of our customers across diverse industries.
The 5 Effects™
We solve through our ability to create and apply specialized chemistry in ways that enable customers to amplify the efficacy, refine the usability, add to the allure, ensure the integrity, and improve the profitability of their products and applications.
coatings overview
solving to create better solutions
The instant a consumer opens the paint can, they will see it, notice it, and feel it. This is the Ashland difference – a difference made possible thanks to our world-class expertise in rheology modification.
Every day, Ashland engineers, chemists and scientists are solving to help perfect paint formulations for manufacturers and formulators. The results can be seen from formulation through application; manufacturing that is simpler or faster, finishes that are more appealing, performance that is more effective.
Your customers demand performance – be it unsurpassed hiding, superior leveling and flow, or consistency with every brush stroke. Ashland can help you formulate coatings to meet market demands with groundbreaking innovation, a global product line, and personal attention that's transforming the concept of customer service.
transforming how you think about paint
Ashland's industry-changing technology is born in our paint application center of technology.
Our solutions are re-engineered and refined after countless bits of information are decoded from our ART™ application reader technology and it comes to life in products like natrosol™ HEC, and aquaflow™ rheology modifiers.

Our technology is transforming not only how you think about formulations, but how painters (contractors and DIYs) approach their projects
From a wall, to a room, to the overall painting experience, Ashland is transforming the way our industry thinks about paint.
who are we?
the premier rheology provider for architectural coatings
driving a more premium mix through product differentation, innovation, and customer intimacy.
focused on further strengthening our leadership in HEC
where do we solve?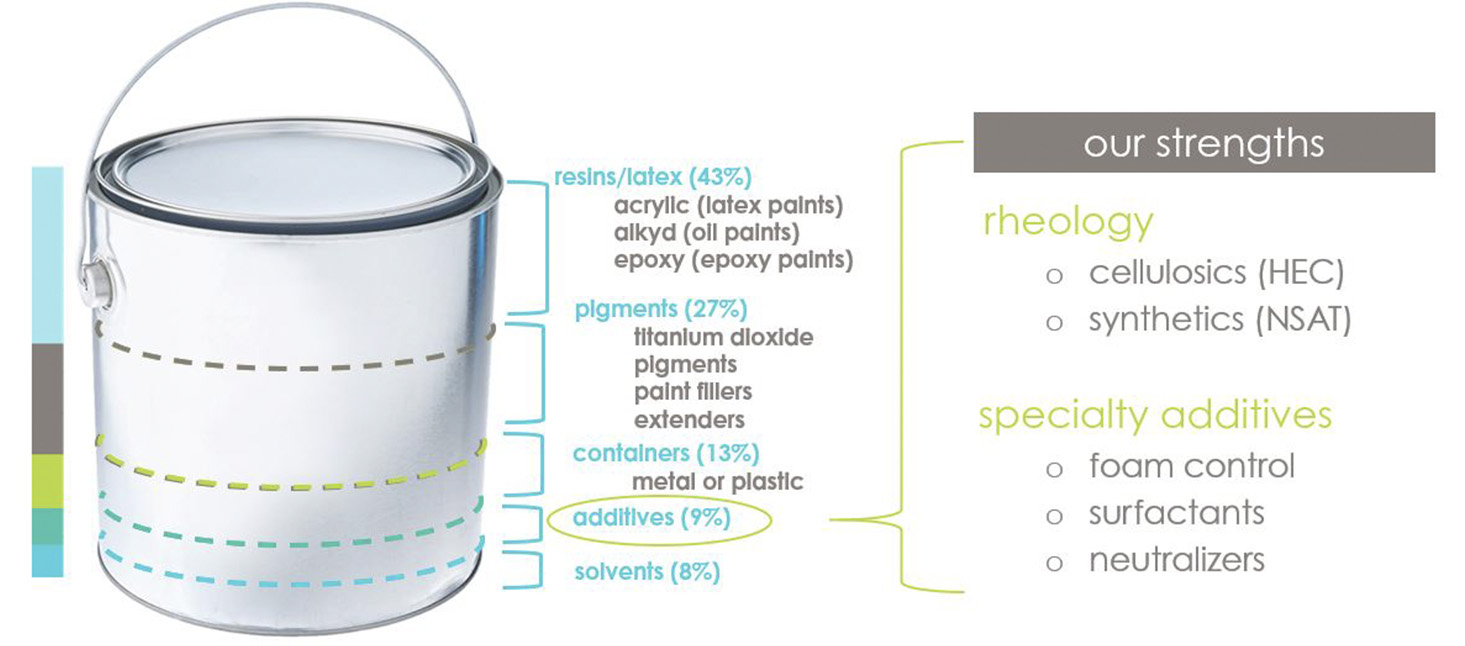 construction overview
Construction is far more than just brick and mortar structures. It is about enhanced quality, functionality, performance and convenience.
There is a larger shift in the industry from job-site to dry-mix mortar to deliver enhanced quality for buildings and to improve productivity. Renovation construction, large scale adoption of machine application and green construction are driving the markets in Europe and North America.
Emerging markets present their own set of challenges. In many areas, traditional building methods and materials are being abandoned for the newest technologies.
who are we?
We are a leading global manufacturer of products that manage the physical properties of aqueous systems in a variety of applications including cementitious tile adhesives, gypsum plasters, renders, joint compounds, external insulation systems, masonry and mortar cements and self-leveling compounds.
Ashland's products used in construction applications provide functional properties including thickening and rheology control, water retention, sag resistance, workability and support strength development.
where do we solve?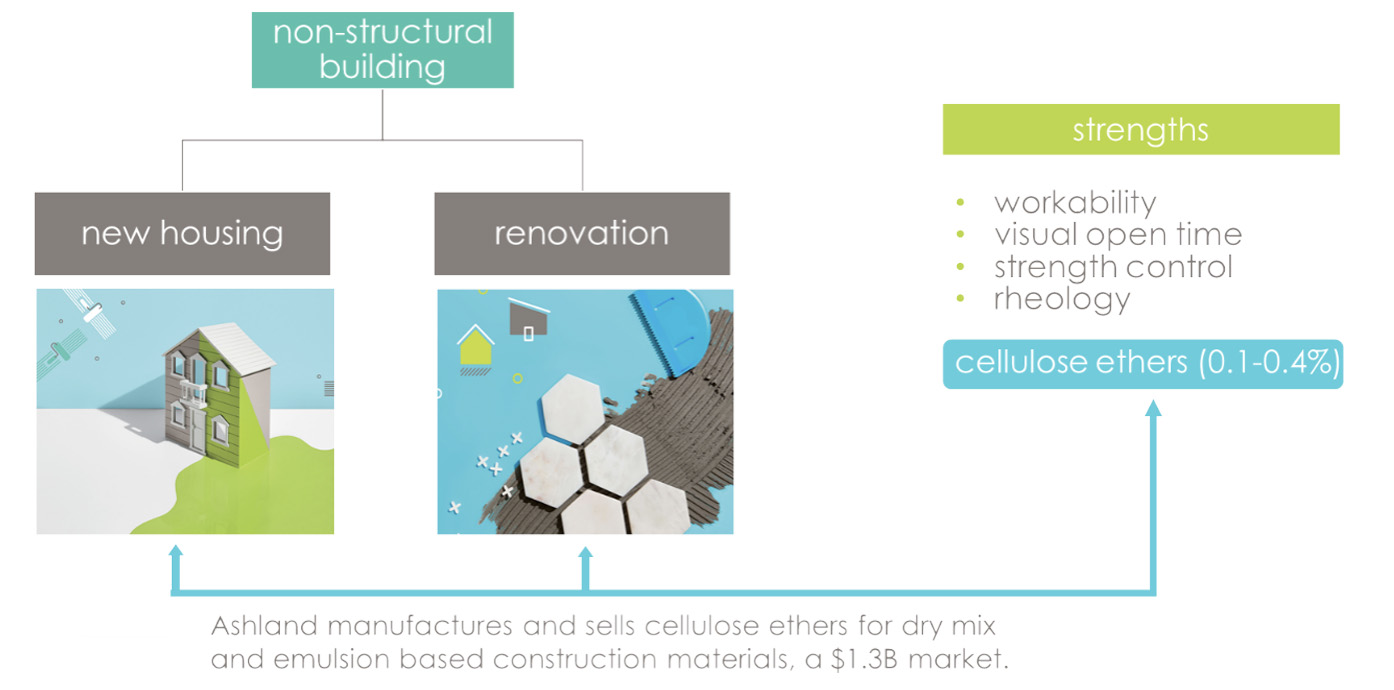 performance specialties overview
Ashland's naturally derived cellulosic and guar products and synthetic technologies deliver effective functional benefits in a broad range of applications in many niche industries.
The challenges we solve with our products are as diverse as the markets that use them. Used in everything from welding rods to textiles to printing, we help manufacturers increase productivity and product performance.
who are we?
We offer a broad spectrum of organo- and water-soluble polymers that are derived from both natural and synthetic resources. Our extensive product line includes derivatives cellulose polymers, synthetics and guar derivatives that impart effective functionalities to serve a wide variety of industrial markets and specialized applications.
Our application specialists, located throughout the world, provide our customers with expert technical assistance using state-of-the-art analytical testing and evaluation equipment. They are the key to bringing out the unique and highly functional performance of our products that go far beyond their relatively low additional levels in complex formulations.
We are dedicated to developing new products and technologies to provide solutions that satisfy the needs of our customers.
where do we solve?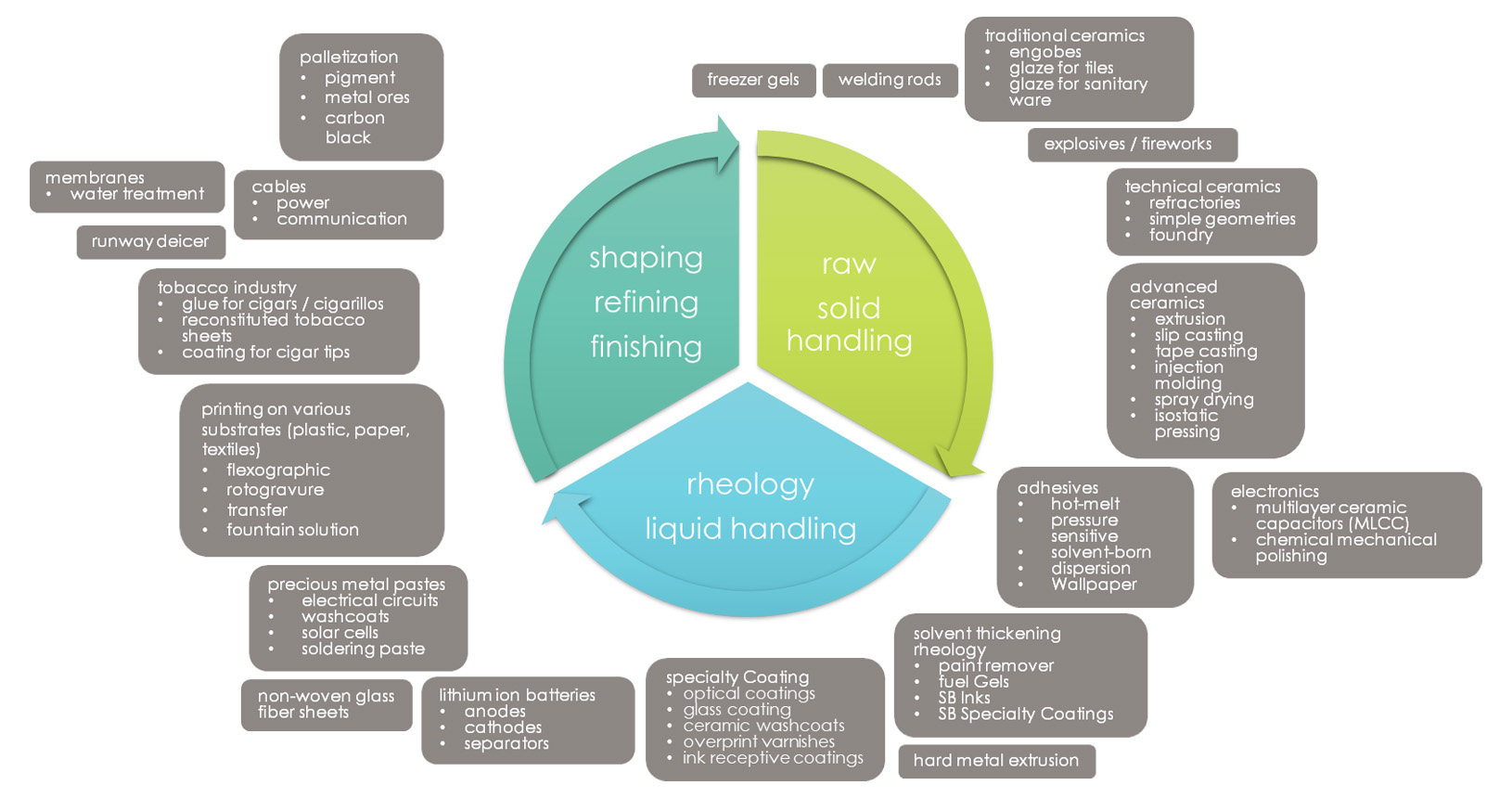 Read More >

learn more about our solutions
case histories
want to learn more?