life sciences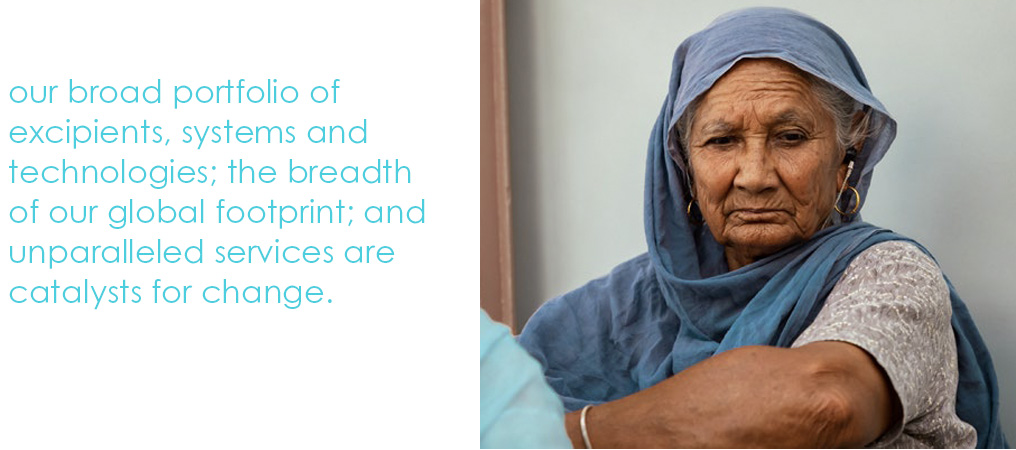 unlocking time, unleashing value, and responsibly solving for a better world
In a world where time is of the essence, Ashland is emerging as a beacon of innovation in the pharmaceuticals space, dedicated to revolutionizing specialty ingredients and technologies, and making a tangible difference in people's lives. Responsibly solving for a healthier world is the purpose behind our relentless pursuit of groundbreaking advancements in life sciences.
Within the walls of pharmaceutical manufacturing facilities, Ashland's specialty ingredients and technologies are at work, meticulously delivering speed, precision, and uncompromising quality to our customers. Within our own walls, the company's commitment to environmental stewardship can be seen at every level. Whether it is supporting continuous manufacturing with hot melt extrusion to lower energy requirements and improve efficiency, reducing overall water usage, or supply chain and logistics refinements that ship products more efficiently, Ashland is actively engaged in reducing our customers' impact on the planet, helping our customers effectively track and communicate their own scope 3 carbon emission responsibilities, and reducing their overall environmental footprint.
helping our customers pioneer so their processes, and consumers' lives, can be forever changed
As the "expert's expert," we understand how to streamline processes from production to delivery and how to help customers develop medicines faster, unlock time, and unleash value. Beyond saving minutes and hours, Ashland's impact reaches far beyond the confines of the factory. We're engaged in collaborations with customers to improve every stage of a patient's life from pediatrics to geriatrics in every corner of the world.
Success comes from families experiencing the joy of spending quality time together, of homes filled with laughter and love. For decades, Ashland innovations have contributed to parents' presence at children's and grandchildren's milestones; for babies once facing daunting health challenges, we help deliver hope and survival through advanced pharmaceutical coatings, injectables' systems and technologies. Every giggle, every tender moment, is a testament to the value unleashed from a problem well solved.
Geriatric patients, often burdened by the weight of age, can discover newfound vitality because of our relentless pursuit for scientific solutions. Whether masking taste or making tablets easier to swallow, our collaborations with customers on breakthrough, patient-centric solutions help seniors remain active longer so they can explore the world and live life with newfound strength, hope, and independence. The cumulative social impact these advances bring deliver the gift of time in countless ways, across countries and cultures often burdened by chronic, debilitating illness.
In this fast-paced world, the clock ticks incessantly – a reminder of the precious moments that can be saved and the value that can be unleashed. Our solvers understand urgency and the need for efficiency. Through collaborations with customers on their most complex challenges, we are redefining what is possible.
That ticking clock is a constant reminder, not of time slipping away but of moments reclaimed and cherished. Amidst these transformative journeys, personal stories of impact illuminate the path we have helped pave.
The breadth of our solutions portfolio, global presence, and unsurpassed technical service give our customers access to Ashland's life sciences innovations so that they can improve life for mass populations and remote communities alike, with comprehensive solutions tailored to each customer's unique needs.
featured innovative products
Read More >
markets served
want to speak with a solver?