batteries
finding solutions for a longer life
Ashland goes the extra mile when it comes to finding solutions and now we can help you do the same with longer-life batteries. The rate of change in the world can leave some ideas in the rear-view mirror, but Ashland anticipates changing needs to stay one step ahead. It's not a 'plug 'n play' when you work with Ashland. The Ashland solvers look at all the positives and negatives of possible solutions and technologies to find the one that best fits your need. Recharge your products and markets through collaboration with Ashland.
lithium-ion battery innovation
Generating renewable energy from the sun and wind is a growing trend. How to effectively store this energy on a large scale is a growing challenge. The increased market for electric and hybrid vehicles creates an ever-growing need for longer-life batteries to expand the driving range. Ashland thrives on putting science and chemistry to work to provide solutions to these and other challenges. As a leading supplier of a wide range of specialty additives and ingredients Ashland provides binders to the lithium ion battery (LiB) industry. Soteras™ MSi, a unique binder for high-capacity silicon-based anodes found in lithium ion batteries, is among the most recent innovations from Ashland. Able to be processed using standard industry practices, its ability to control swelling results in superior cycle performance yielding longer battery life.
featured products:
Soteras™ DSA dispersant for hydrophobic particles in water-based slurries
Soteras™ DSA is an effective dispersant for aqueous systems for both the anode and cathode, including actives like lithium ion phosphate (LFP)


Soteras™ CCS-V binder for ceramic coated lithium ion battery separators
Soteras™ CCS-V binder enables separator producers to meet ever more stringent safety requirements from lithium ion battery cell producers. It employs Ashland's unique 2-component cross-linking system:
1. unique polymer which promotes adhesion to separator
2. cross-linking agent to ensure thermal and mechanical stability


Soteras™ DSV dispersant
Soteras™ DSV dispersant is a polymer dispersant for aqueous ceramic coated separators. Soteras™ DVS dispersant functions at low dosage to reduce the slurry viscosity.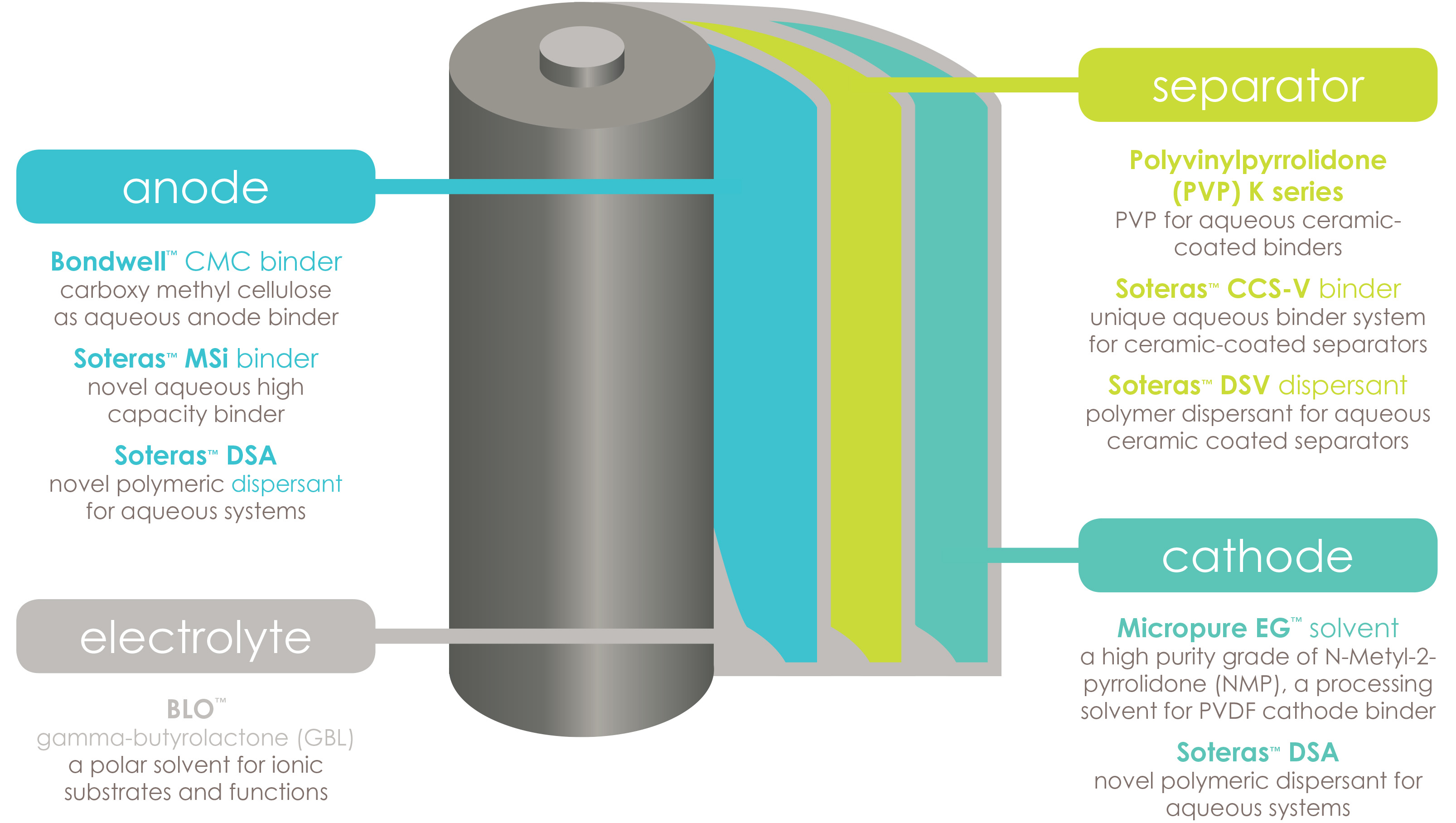 products
Products for battery applications are listed below, use the filters to find the products that meet your specific needs.
literature
Ashland in the news
The editors at Nature Communications have put together an Editors' Highlights webpage of recent research on Energy Materials and are pleased to publish Ashland's paper, entitled "Supremely elastic gel polymer electrolyte enables a reliable electrode structure for silicon-based anodes". written by:
Qingquan Huang, Jiangxuan Song, Yue Gao, Daiwei Wang, Shuai Liu, Shufu Peng, Courtney Usher, Alan Goliaszewski & Donghai Wang