providing health care support
Ashland India donated hearing aids to the hearing-impaired children through Ashray Akruti
Ashray Akruti is a non-profit, non-religious organization working towards providing access to quality education, health care and sustainable livelihoods to people with disabilities and marginalized sections of the society. Ashland India helped the NGO with donation of hearing aids to the hearing-impaired children and working towards creating a positive impact on their lives.
The NGO had recently organized an inauguration at their facility and solvers from Hyderabad graced the event. Over 15 solvers were part of the gathering and helped distribute 50 hearings aids to the children.
The team at Ashray Akruti had organized games and art activities which witnessed enthusiastic participation. The event observed fun activities that ran over 2 hours. The solvers were given a tour of the facility and they also saw some videos launched recently as classroom aid.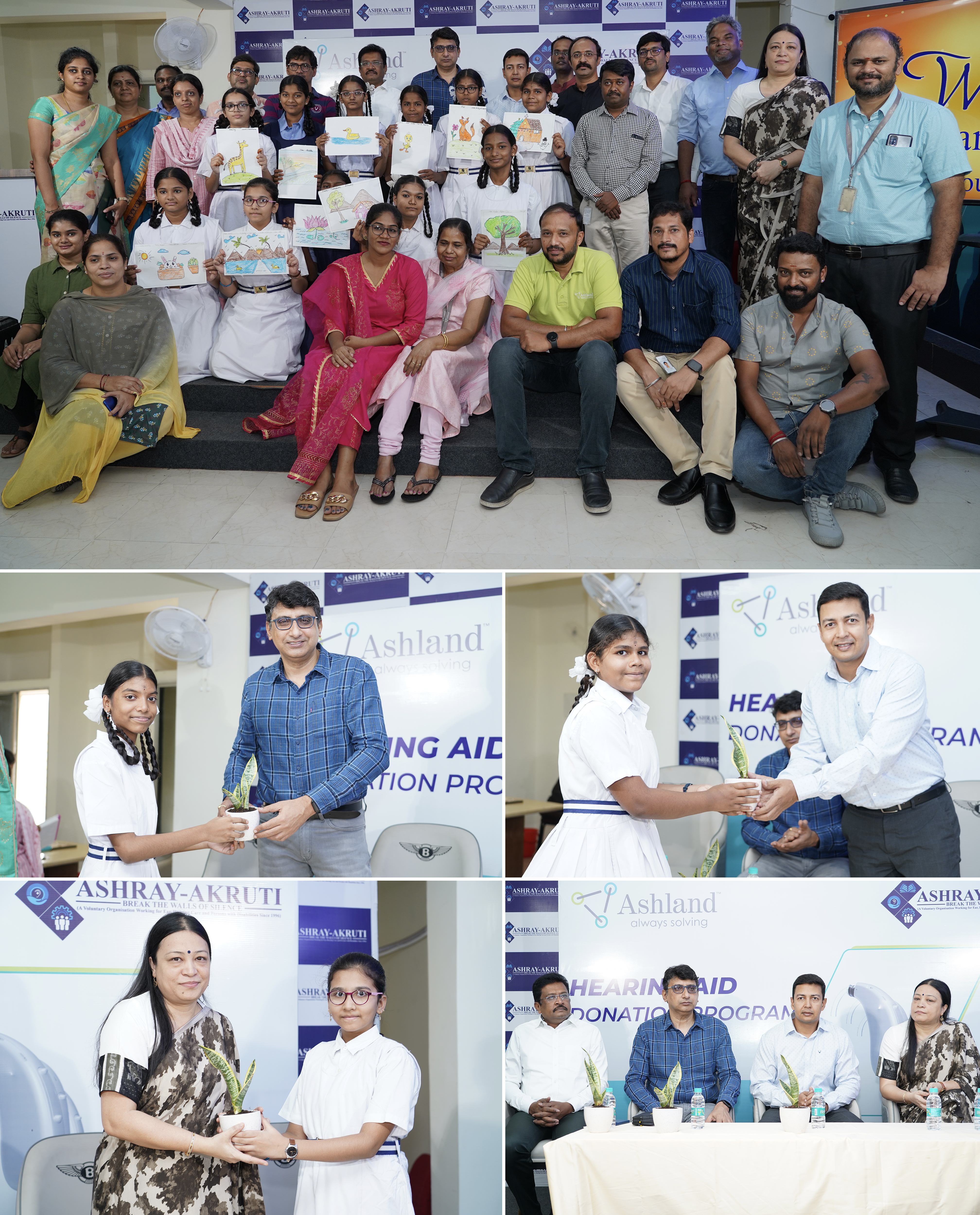 Ashray Akruti supports hearing impaired children
Ashland India donated BERA and impedance audiometry to Ashray Akruti, NGO. Brainstem Evoked Response audiometry—Auditory brainstem response (ABR) testing is an objective test, evaluating the integrity of the hearing system from the level of cochlea up through the lower brainstem. This only the test assess infant, children hearing status objectively without conscious response from the patient.
Impedance audiometry--The purpose of impedance audiometry is to determine the status of the tympanic membrane and middle ear via tympanometry.

oxygen concentrators
With the onslaught of a second wave of COVID-19 in India, the country was facing a severe shortage of oxygen cylinders and concentrators. To provide support during this moment of crisis, Ashland India's CSR team rallied together with the Rotary Club of Bombay Juhu Beach, a Public Charitable Trust (Rotary), to sponsor Medical Oxygen Concentrator Machines for BSES Municipal General Hospital at Andheri West, Mumbai. The Medical Oxygen Concentrator Machines were used to provide artificial respiration support to COVID-19 patients treated at BSES MG Hospital.

mobile ophthalmic van funded by Ashland
A lot of people from the underpriviledged section of the rural areas did not have even 5 rs, i.e., $ 0.065 usd for treatment of eye disorder. Ashland India helped Smt. Indirabai Wavikar Trust to start a mobile ophthalmic van. Ashland India sponsored $ 41,336.25 USD for a unique concept that IWCT proposed, mobile Opthalmic van. To provide even more care, this mobile hospital (ophthalmic operation theatre van) would overcome logistics difficulties in order to supply care to needy people in rural areas.