process safety
At Ashland, process safety management calls for managing the integrity of operating systems by applying good design principles and engineering, as well as sound operating and maintenance practices. Effective process safety management prevents the uncontrolled release of hazardous substances with the aim of avoiding significant incidents with the potential for serious injuries, environmental impact and property damage.
Our approach to process safety management focuses on reducing risks and incidents through our management systems. This includes classifying risks and scenarios and employing a risk matrix to help us focus overall risk-reduction efforts. We then identify mitigation measures and design and implement multiple safety controls to reduce and/or eliminate the risks.
Our process safety systems meet, and in many cases exceed, industry norms. We subscribe to industry standards, in addition to our own internal standards, that provide an extra level of protection.
In addition to our risk-management processes, we conduct periodic process-hazard assessments to ensure our equipment and processes are operated and maintained to prevent unplanned or uncontrolled release of materials from a process. Our facilities are also regularly audited to ensure they are in compliance with applicable process safety regulations and standards. The results of these audits are reported to senior management. Where a deficiency is identified, action plans are developed and followed to closure.
As part of our process safety management program, we investigate all incidents and near-misses, determine their root causes and share them across our operations. Ashland also learns from investigations of major industry incidents and incorporates the lessons learned into our operations and technical standards.
We also collaborate with the Center of Chemical Process Safety, the American Chemical Council and the Society of Chemical Manufacturers & Affiliates to share lessons learned from our process safety events.
process safety performance
process safety performanceAshland has created a process safety roadmap for improvement, aligning with our Plan-Do-Check-Act process with a focus on the following: process safety health check, create an action plan to improve the current system, implement management system improvements, modify the ongoing validation/inspection program. Ashland's process safety management system involves: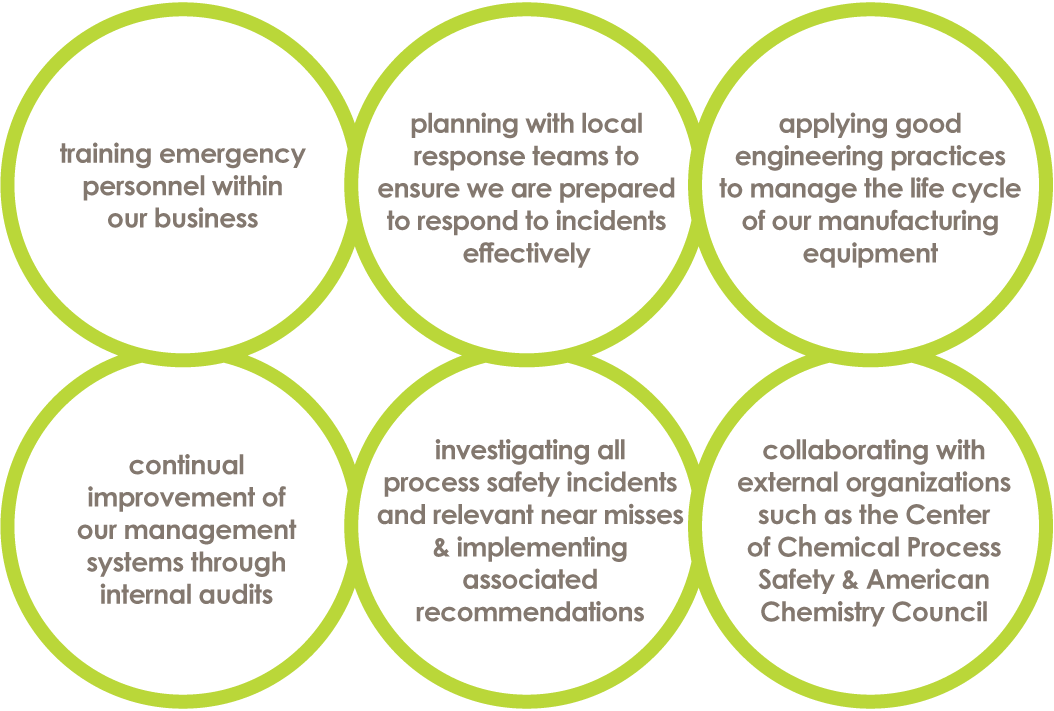 industrial hygiene
Ashland has a robust industrial hygiene program that addresses the identification, assessment, and control of acute and chronic occupational health risks. Ashland has accredited industrial hygienists and toxicologists who oversee an industrial hygiene program that meets or exceeds current regulatory requirements and is continuously improving.
Ashland's industrial hygiene program is implemented through a global standard. This standard applies rigorous requirements around the review and regular assessment of occupational exposure risks. All of our manufacturing sites have industrial hygiene site level programs in place which include consideration for regular exposure monitoring and corrective and preventive actions that continuously reduce risk. Ashland utilizes published exposure limits from regulators and industry organizations such as the American Conference of Governmental Industrial Hygienists (ACGIH) to assess exposure and make recommendations on regular exposure monitoring.
Manufacturing sites are regularly audited under Ashland's EH&S auditing program to ensure that they have active and robust programs in place and meet or exceed local and federal regulatory requirements. Where needed third party support is engaged to help with these assessments and any improvement recommendations. Programs include training, the use of personal protective equipment, medical surveillance, engineering controls, and where possible, the elimination or substitution of toxic or hazardous raw materials and finished goods.
Ashland's industrial hygiene program is active in tandem with our product stewardship program which supports Ashland's efforts to reduce or eliminate the use of substances of concern. Ashland's industrial hygeinists and third party contractors analyze air monitoring at labs that are American Industrial Hygiene Association (AIHA) accredited, or accredited through other national bodies. Data is maintained in a centralized system and at manufacturing sites to ensure ongoing compliance and corrective and preventive actions.
emergency preparedness
At Ashland, effective emergency preparedness highly depends on good planning and training with emergency personnel both within our operations and the communities where we work. To develop and implement emergency response strategies, we bring together representatives from health and safety, environmental, security, human resources, operations management and other technical and functional advisors to formulate response plans. We also work with local emergency planning committees and response teams to share our plans and pool our resources.
We routinely test our plans with our trained emergency response teams on a range of possible scenarios, including simulated spills, fires, explosions, natural disasters, security incidents and medical emergencies. Every Ashland site conducts drills in accordance with Ashland and regulatory requirements.
Additionally, Ashland operating facilities permit local emergency response teams to observe and walk through our facilities so they may become familiar with our sites and internal response capabilities.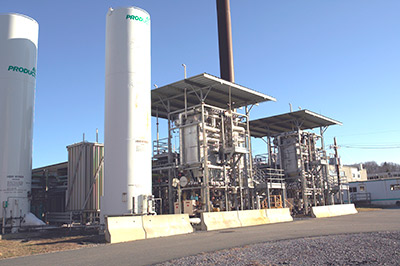 transport safety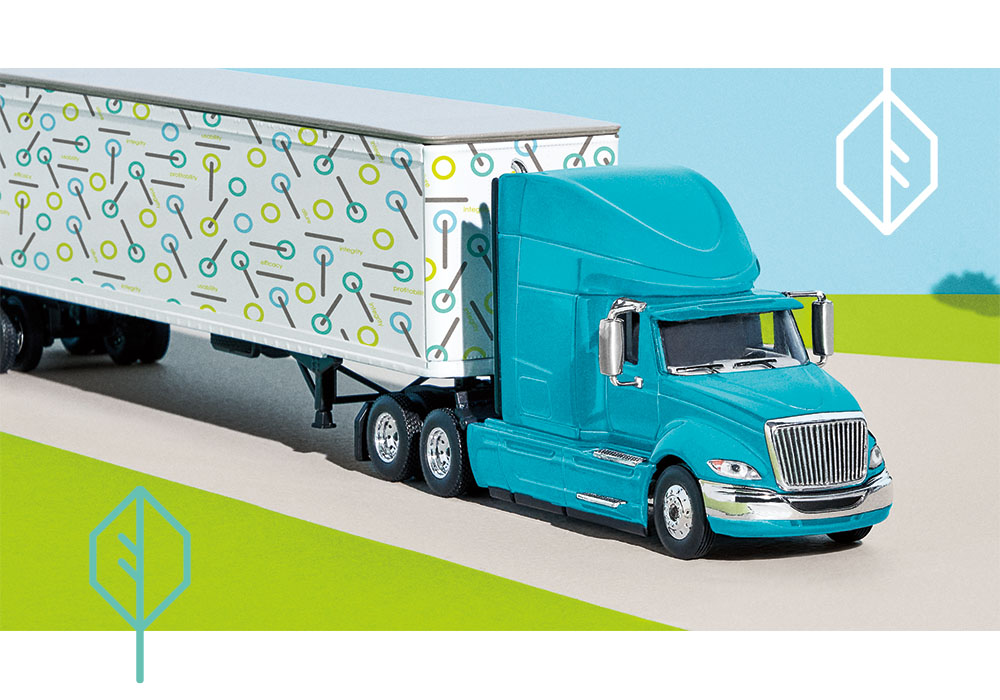 Ashland sets global operational expectations for transportation safety that are designed to ensure compliance with transportation regulations and to minimize the risk to people and the environment.
Ashland's common carriers are expected to be in full compliance with applicable laws and Ashland's Global Supplier Code of Conduct, have a satisfactory safety performance and be in good financial standing, as regionally determined. Carriers are assessed on an ongoing basis to minimize any potential future risk, and their performance is monitored through Ashland's incident management system. Ashland supports investigations and developing corrective action plans with carriers for incidents involving Ashland products.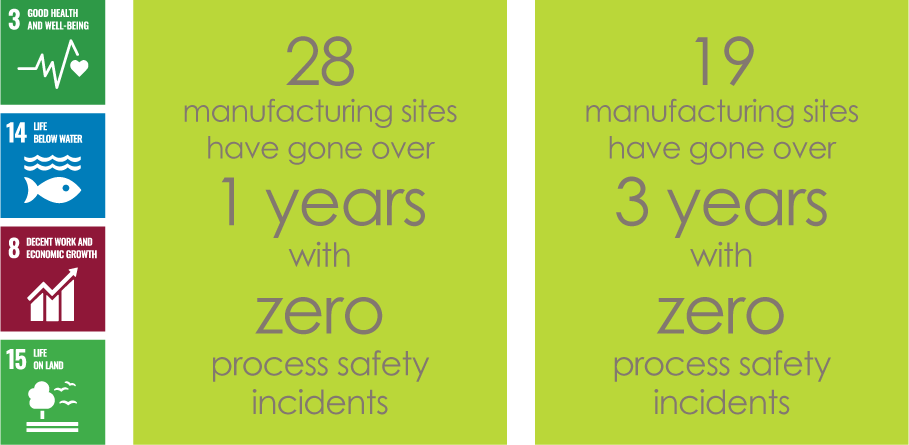 Note: The values are reported based upon transport incidents that require a U.S. Department of Transportation 5800 report, transport incidents that require a report based upon the EU concerning the International Carriage of Dangerous Goods by Road (ADR) criteria, and either transport incidents defined in accordance with the nationally recognized definition or definition consistent with the ICCA Guidance for Reporting Performance. These include all distributions for which Ashland has direct oversight as well as those contracted by Ashland to a third party.