EcoVadis
Ashland has partnered with EcoVadis for third party verification of supplier self-assessments to ensure that the suppliers meet their commitments to environmental, social, and ethical practices and behavior. The self-assessment focuses on environment, labor and human rights, ethics, and sustainable procurement.
As an initial step, we focused on assessing our top 100 suppliers, by spend. Having achieved this milestone, Ashland's next target is to have EcoVadis Assessment for 100% of our key suppliers for raw and packaging materials by the end of fiscal year 2022. In 2021, we achieved the goal by assessing over 80% of our key raw and packaging suppliers. This represents a significant part of our supplier footprint.
In addition to our raw and packaging material suppliers, we have started to assess suppliers in other categories as well. As of now, we have passed over 60% of our key indirect and corporate services suppliers by spend. We will continue teo focus and evaluate suppliers in all categories in the coming fiscal years.
Ashland is assessed through EcoVadis as well, and we provide our scorecard to our customers. In 2021 we achieved a score of 63, representing the 89th percentile and garnering Ashland a silver award through the EcoVadis platform. Our continued commitment to transparency and disclosures through EcoVadis allows us to support our customers' sustainability and transparent reporting initiatives, as well as our own ESG objectives.
supplier evalutation and follow-up:
We plan to utilize our suppliers' EcoVadis results to evaluate our highest risk suppliers through independent, third-party auditing processes. The intent of our follow-up program is to educate and help suppliers make progress on their path towards becoming more sustainable companies and further improve Ashland's environmental performance.
Figure 1 below depicts, in collaboration with EcoVadis, the process we are applying to evaluate our suppliers.

Ashland will be working with suppliers that have performance scores below 45 so they understand the factors affecting their score and can improve and develop their sustainability programs.
Note: We define "key supplier spend" for raw and packaging materials as well as for indirect materials/services and corporate services as 80% spend in those categories.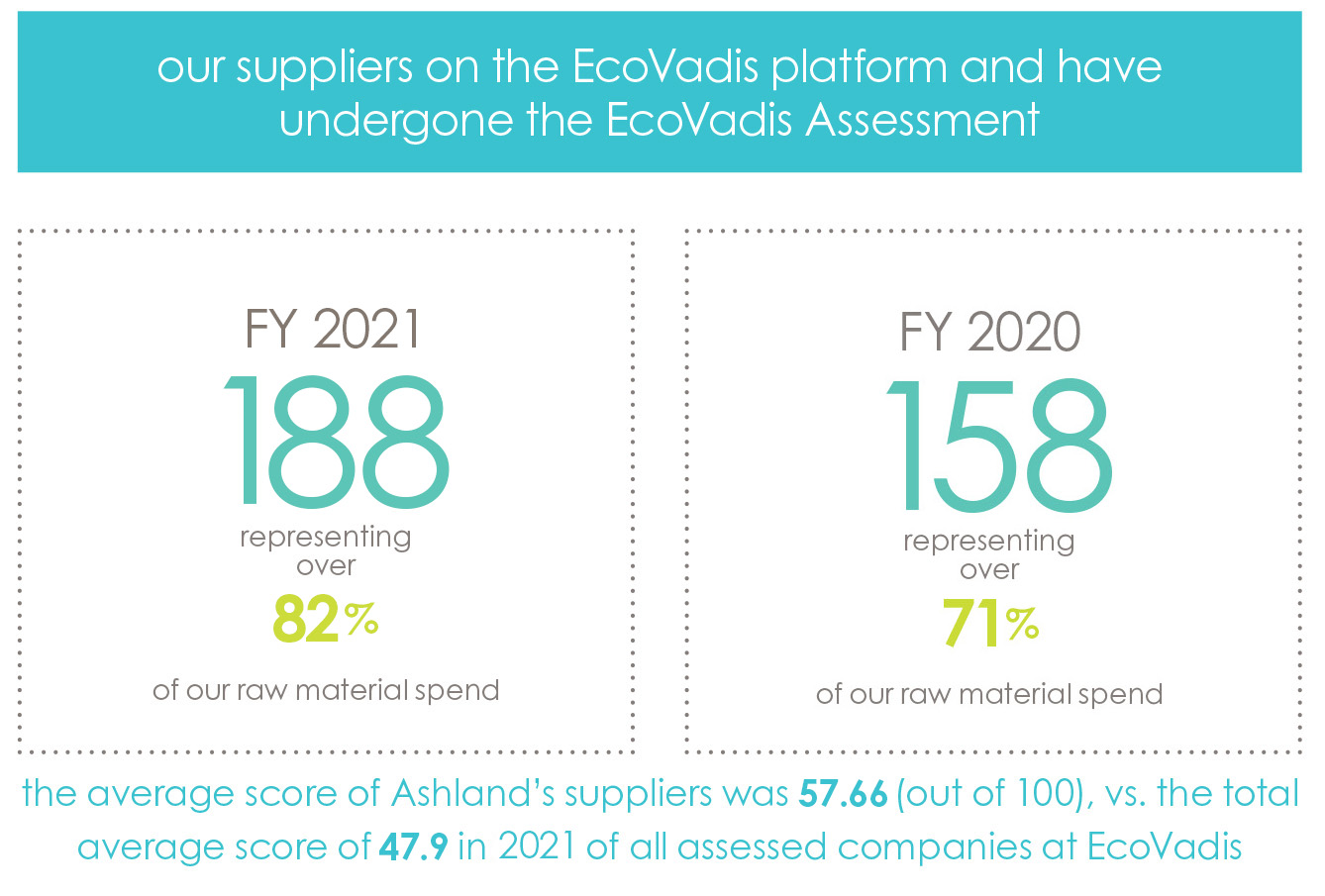 related links