skin tattoo model
the next breakthrough in tissue engineering
Tattooing is an ancestral body modification to identify itself to a group, an ethnic community in which sharp tools are used to insert pigments into the dermal skin layer.
During the last decade, the percentage of persons who has at least one tattoo has increased noticeably. For example, in western societies, up to 44% of people in the age group around 30 have at least one tattoo (Kluger, 2015). In parallel, the dermatologist visits increased due to side effect of tattooing. These side effects are multiple such as inflammation, phototoxicity, allergic reaction, itch, etc. The color of tattoos is mainly black, followed by red, green, blue, and other colors.
Tattoo pigment can precipitate numerous inflammatory states. The skin is the most common site of inflammation, but systemic inflammation can occur. Reactions to black tattoo ink have a broad differential of cutaneous and systemic conditions (Bose, 2020).
Ashland Tissue Engineering team based in Sophia-Antipolis (France) has already developed numerous innovative in vitro models in numerous fields. Recently, a new 3D human skin tattoo model including immune cells was developed. It consists in a specific 3D in vitro model to study the effect of pigments on macrophages and fibroblasts included in the dermis equivalent.
Morphological studies were realized on Tattooed ex vivo skin to observe the impact of tattoos on human skin. In the H&E staining, presence of pigments was identified in the dermal compartment (picture 1).
Numerous studies were conducted with several types of pigments currently used by tattoo artists in various human skin primary cell lines such as fibroblasts and macrophages. Morphological modifications and induced inflammation were studied according to the pigment tested.
After years of studies to find the optimal conditions to mimic in vitro the daily routine of skin artist on skin, a new 3D human skin tattoo model including immune cells was developed (picture2).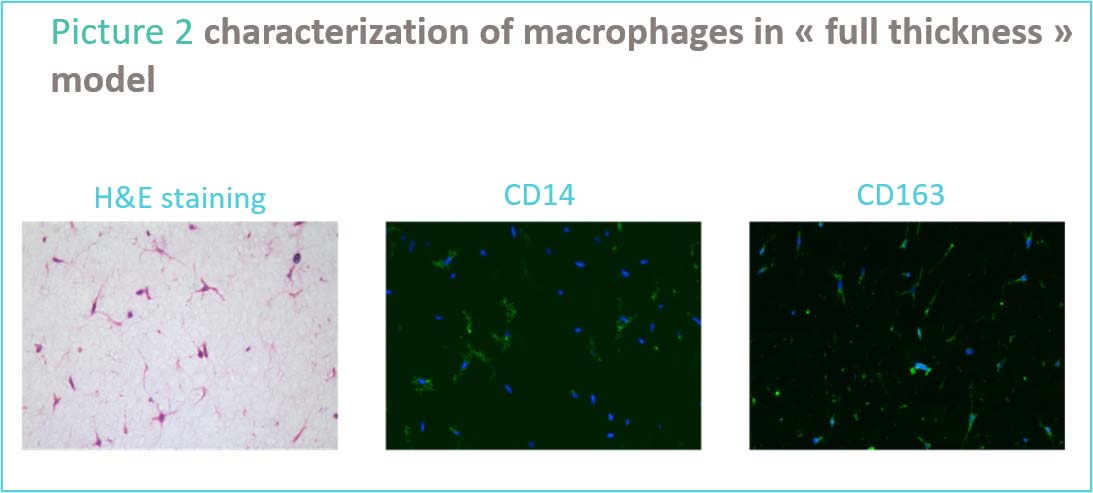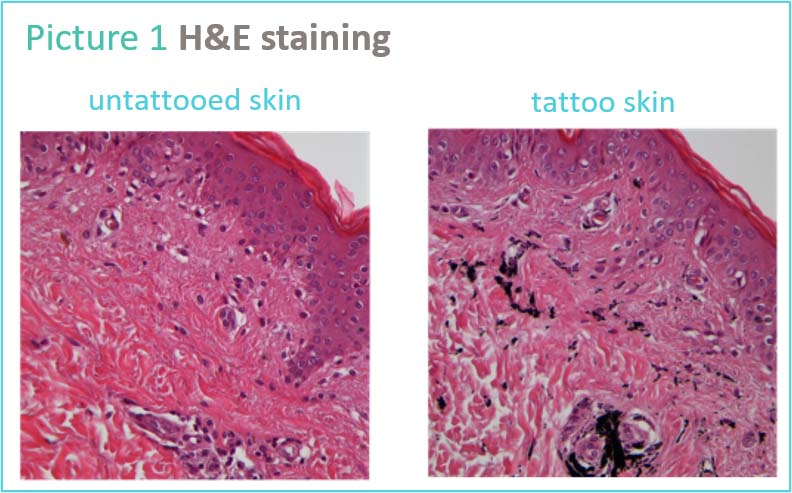 Dr. Christophe Capallere who leads the Tissue Engineering team in Sophia-Antipolis explained that "generally, the inflammation observed after a tattoo is due to the mechanical action of needles but in our condition, we noticed an inflammation on fibroblasts and macrophages". He also highlighted that "to better stimulate the effect of tattooing (needles + pigments) we needed to develop internally a 3D model as nothing was available to conduct such studies. This full thickness includes an epidermis and a dermis but with a tattoo specificity. Indeed, the dermis is composed with collagen matrix, fibroblasts, macrophages and pigments".
Dr. Isabelle Imbert R&D Director of Ashland Sophia-Antipolis added that "this is the first human 3D skin tattoo model available to better understand the skin-ink impact and to propose adapted solutions to tattoo artist brands looking to develop adapted formula to better prepare and repair the skin before and after tattoos. The Tattoo Market is booming with more than 300 million tattooed adults worldwide and more than half of Millennials being tattooed. In Ashland, we have a passion for innovation, and we develop strategies to help our customers to foresee what the future will be. Thanks to our talented scientists, this new Skin Tattoo model is a great example of such capabilities."
references
Bose R, Sibley C, Fahim S. Granulomatous and systemic inflammatory reactions from tattoo ink: Case report and concise review. SAGE Open Medical Case Reports. January 2020.

Kluger N (2015) Epidemiology of tattoos in industrialized countries. In: Serup J, Kluger N, Bäumler W (eds) Tattooed skin and health, vol 48. Curr Probl Dermatol, Basel, Karger, pp 6–202.

Laux P, Tralau T, Tentschert J et al (2016) A medical-toxicological view of tattooing. Lancet (London, England) 387(10016):395–402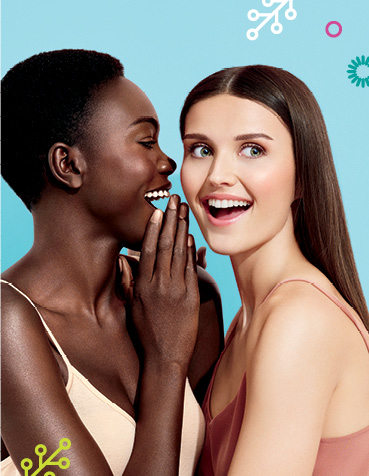 related industry