supplier code of conduct
As Ashland forms relationships with new suppliers, we require them to sign our Supplier Code of Conduct. Issued in 2014, the Code consists of social, ethical, and environmental guidelines for suppliers. Per the Code's requirements, Ashland's suppliers are expected to implement work practices that consistently prevent personal injury or property loss, comply with regulatory agencies, and that actively encourage care and regard for the environment. This includes such practices as responsibly cultivating and harvesting natural raw materials and seeking third party verification. Our goal is that our suppliers will embrace these values and share our commitment to corporate responsibility.
As of FY2019, Ashland has received statements from its Suppliers which represent about 80% of our raw material spend. Where Ashland utilizes external manufacturing of its products at a third-party site, periodic audits are conducted to ensure adherence to the above practices as defined in our Code of Conduct.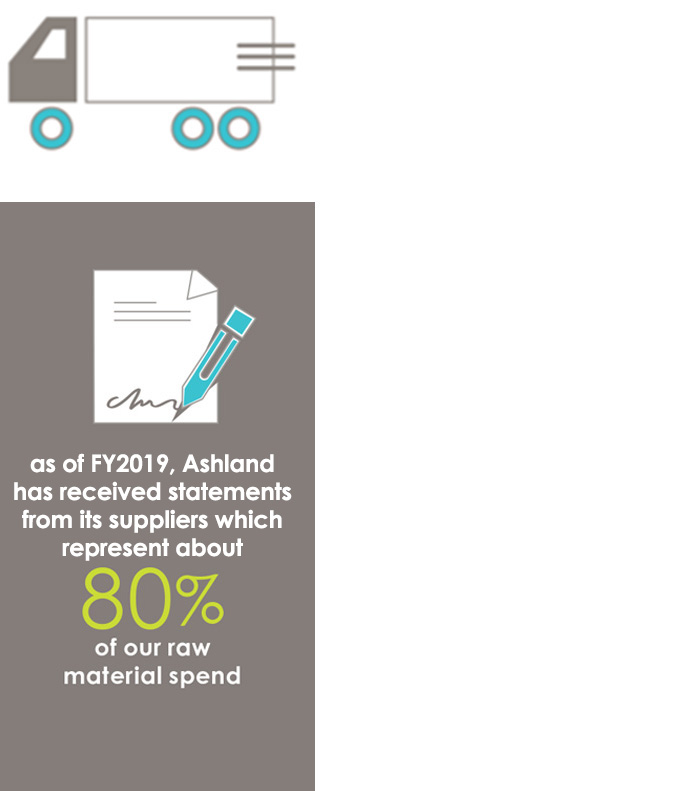 related links