AME™ epoxy vinyl ester and modified epoxy vinyl ester resins
Chemistry: Composites
SDS Link >
AME™ premium marine resins have been the preferred and trusted resins for the most respected boat builders in the world for over 30 years. As one of the first premium resins ever designed for the marine industry, AME resins have a flawless record of providing long lasting performance that has yet to be equaled. These modified epoxy vinyl ester resins have been designed exclusively for the premium boat builder and great care has been taken to address performance and production needs.
Ashland has met and exceeded the expectations across North America and Europe with a history of being the Market Leader and having products with reliable, durable, real world performance. For the world's top boat builders, Ashland has designed a complete line of premium epoxy vinyl ester resins to meet the demands of the market. We develop exciting new solutions by collaborating with customers, entrepreneurs and industry partners to find new products and applications that not only elevate our customers' business but also the industry. Ashland's boat building expertise, product development, and technical service will help you become a better, more profitable boat builder.
AME™ 1001 Workhorse epoxy vinyl ester resins provide improved toughness and performance over standard general purpose marine resins. Properties exceed Det Norske Veritas (DNV) Grade 2.
AME™ 5001 Premium epoxy vinyl ester resins deliver high performance properties and excellent blister resistance. Properties meet ISO 122-15-1 small craft construction.
AME™ 6001 100% epoxy vinyl ester resins deliver superior blister resistance and toughness. Physical properties exceed ISO 122-15-1 Type A & DNV Grade 1 requirements.
AME™ 6441-800 PAT Tooling resin. This 100% epoxy vinyl ester provides high heat distortion temperature (245 F) and tremendous flexibility (4.5% elongation) allowing for a tough durable tool.
Read More >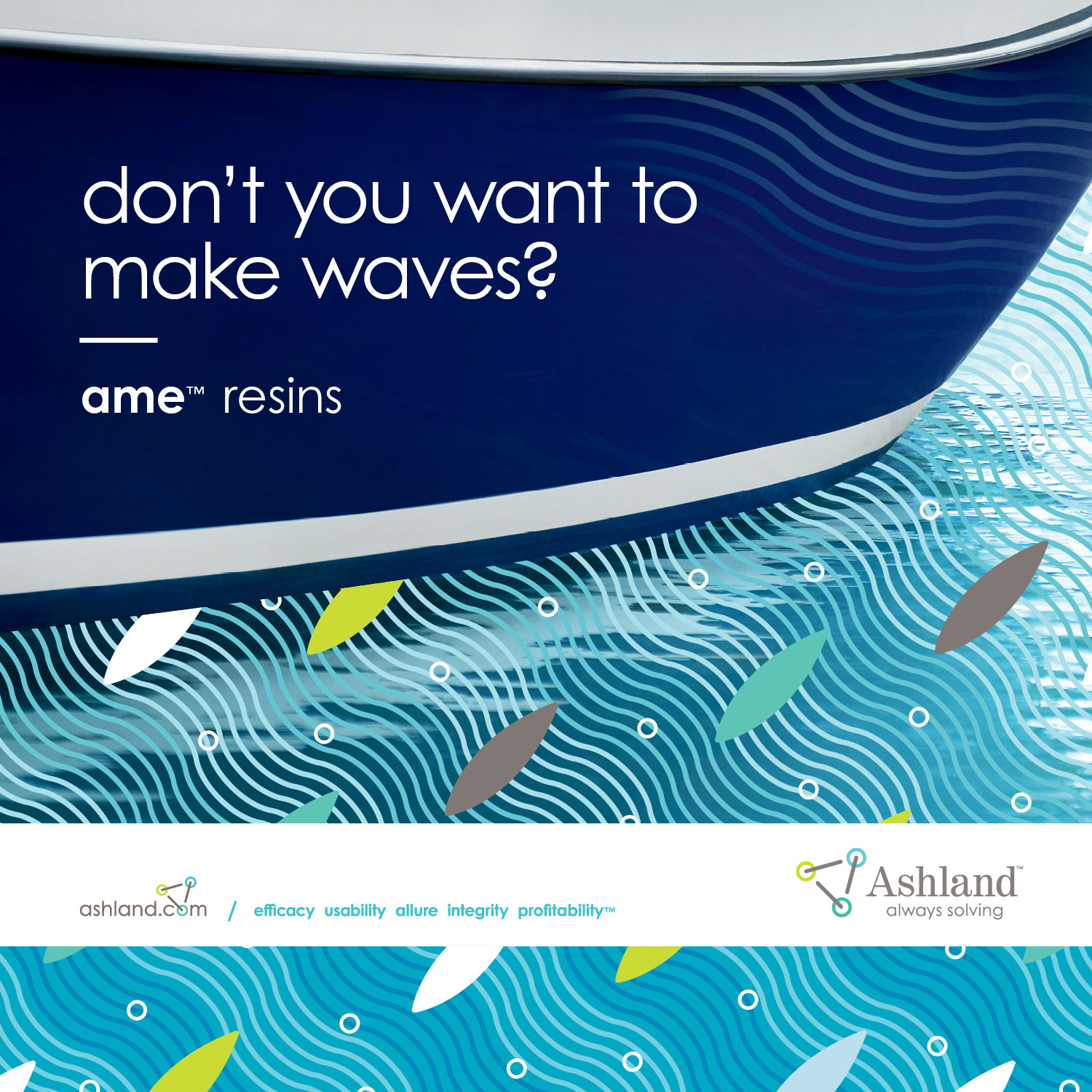 Documents