Wound Care
Banding together to aid you in finding solutions
As anyone who's ever ripped off a bandage knows, changing dressings can be as painful as the wound itself. The right amount of stick is needed to protect wounds and seal ostomys with out damaging the tender skin around them. Ashland applies chemistry to create the optimum balance between stick and release. Ashland has you, and your wound care needs, covered.
Many factors must be taken into account in the development and production of wound and ostomy care products. Adhesion and Absorbency stand at the top of the list. Products must provide enough adhesion to remain securely in place, even in the presence of moisture, while also allowing damage- and pain-free removal. Maintaining an environment that's condusive to healing is essential and means effectively managing moisture, fluids, and air. Too much moisture may lead to infection, too little and the healing process can be slowed. Leaks and odors can result in embarrassment and distress for patients, which may in turn, slow the healing process of negatively affect their quality of life. Ashland considers all of this when developing solutions. Partnering with Ashland provides you with access to our products as well as our technologies and teams of solvers who will work with you to develop solutions that yield better outcomes for both you and your customers.
products
Wound care products are listed below.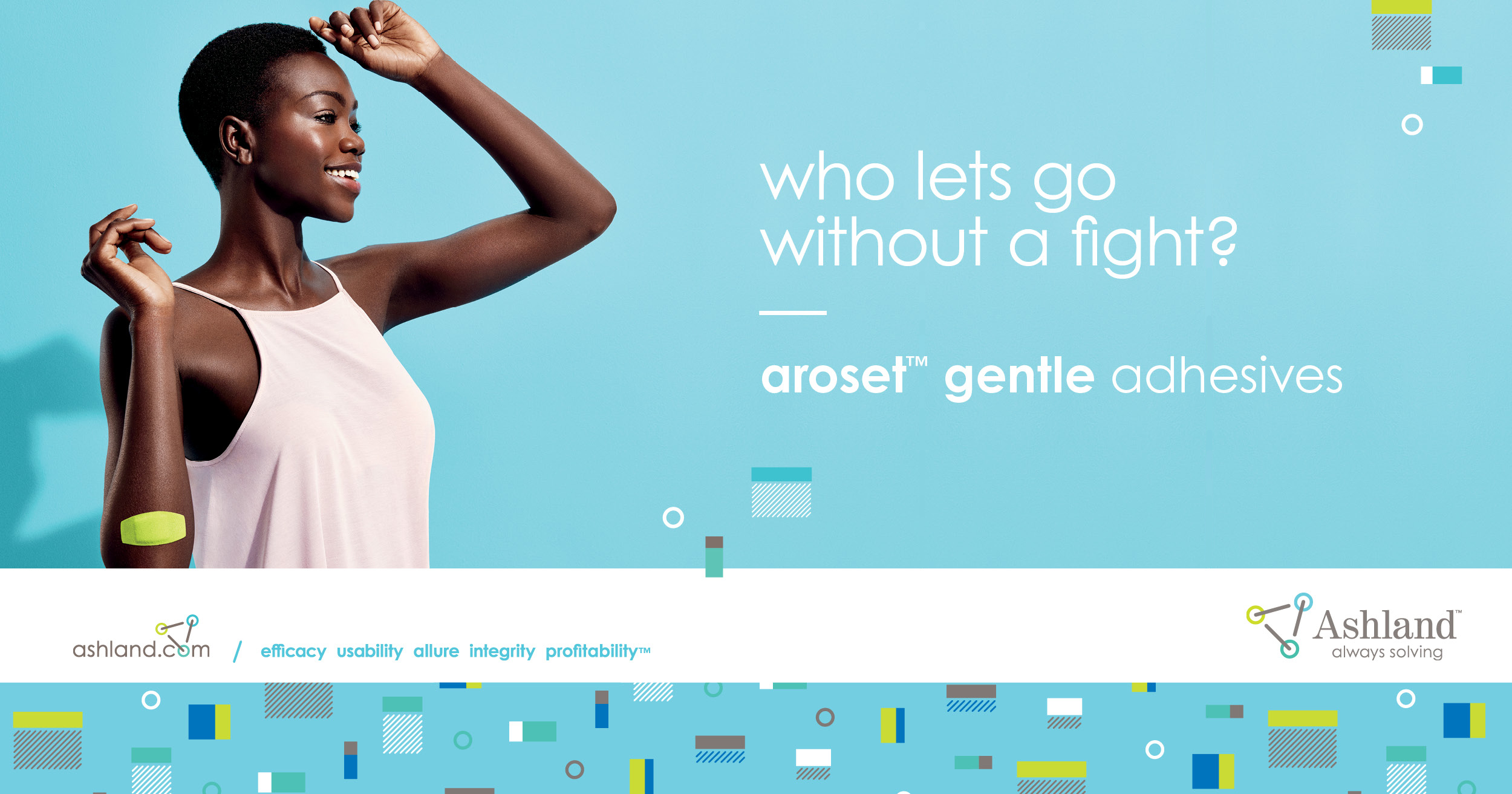 related product selector tool
literature
contact us
Aroset™ solvent acrylic pressure sensitive adhesive
solvent acrylic: Ashland is a leading global supplier of solvent-based pressure sensitive adhesives. Our broad line of Aroset™ solvent adhesives are the best and most cost-effective choices for demanding performance applications. features and benefits Solvent pressure sensitive adhesive attributes range from: stable adhesion optically clean coater-ready ease of coating UV resistance improved anchorage mechanically stable reduced plasticize...
Aroset™ emulsion pressure sensitive adhesive
Aroset™ emulsion pressure sensitive-adhesives are designed for a wide range of specialty permanent and removable applications. Our coater-ready formulations meet the most stringent performance requirements on paper, film and vinyl substrates in label, tape and graphic applications. Ashland works with you to determine your specifications and then drawing on its technology and experience, helps determine the best product - whether it is stand...
Aroset™ Gentle 700 PSA
a new, innovative, low-trauma medical adhesive Aroset™ Gentle 700 PSA is a unique and differentiated pressure sensitive adhesive designed to meet the growing demands within the medical-use and wound-care industries. This new innovative, low-trauma adhesive allows for superior and consistent functionality without the painful side-effects. features and benefits user friendly (especially for sensitive skin) repositionable passed ISO 10993 bio...