Rad-Sure™ UVA 3J Illumination Indicators
chemistry: radiochromic film
Rad-Sure™ UVA 3J* brings the benefit of the "NOT" to the UVA Pathogen Reduction System. Rad-Sure™ UVA 3J takes the great functionality and reliability of Rad-Sure™ Irradiation Indicators and extends it to the unique multi-window design of Rad-Sure™ UVA 3J. The unique design features three windows that, once exposed, can transfer from the illumination container to the final storage containers, following the path of the product.

how it works:
place the full indicator strip on the flap of the illumination container
run the illumination cycle
during the filtration process, peel off the individual illuminated indicator windows from the indicator strip and place one on each of the respective storage containers
product benefits:
independent confirmation of illumination
reduces error – confirms the was properly illuminated and helps ensure that product is not double-illuminated
not subjective – know that the product has been properly illuminated when the film turns black and the "NOT" is completely obscured
transfers with the product – Rad-Sure™ UVA 3J features a three-window design that peels and transfers to the storage containers after illumination providing traceability of illumination to the final destination
color-blind friendly – no need to match colors, just read the indicator to know the blood product has been illuminated
ISBT-128 2D bar-code
For more information about Rad-Sure or how to order, contact us.
*UVA 3J is not available in the USA.
Read More >
additional content coming soon
additional content coming soon
additional content coming soon
https://isolve.ashland.com/s/productlanding
https://isolve.ashland.com/
/industries/personal-and-home-care/welcome-to-isolve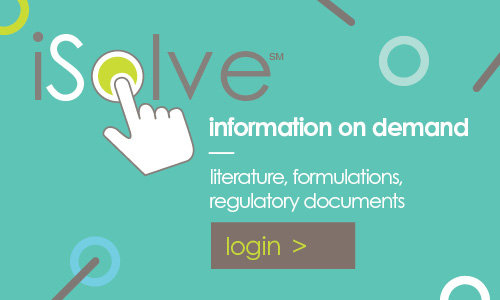 related links

related literature