Adhesives for Wood Products
Stick with Ashland wood adhesives
Ashland continues to keep its ear to the ground and nose to the grindstone to transfer its knowledge and expertise from one area to another. Ashland adhesives create strong, multilayered, wood products that can help you out of sticky construction situations. Inside and out, and top to bottom - from joists, beams and wall panels, Ashland adhesives help you construct with integrity.
When it comes to delivering solutions for engineered wood applications, Ashland has a solution for you. Whether you're looking at I-joists or web-to-web application, Ashland adhesives get the job done. These water based, formaldehyde-free, and environmentally acceptable products are also moisture- and solvent-resistant and clean up with just water. Able to be applied through both extrusion or roll coating, they can be either hot or cold press-cured or RF-cured. The family of Isoset™ adhesives are designed to deliver strength faster than competing adhesives to maximize production as they are designed specifically for soft woods used in Engineered Wood Product applications. Behind your EWP problems, is an Ashland solution.
products
Wood product adhesive products are listed below.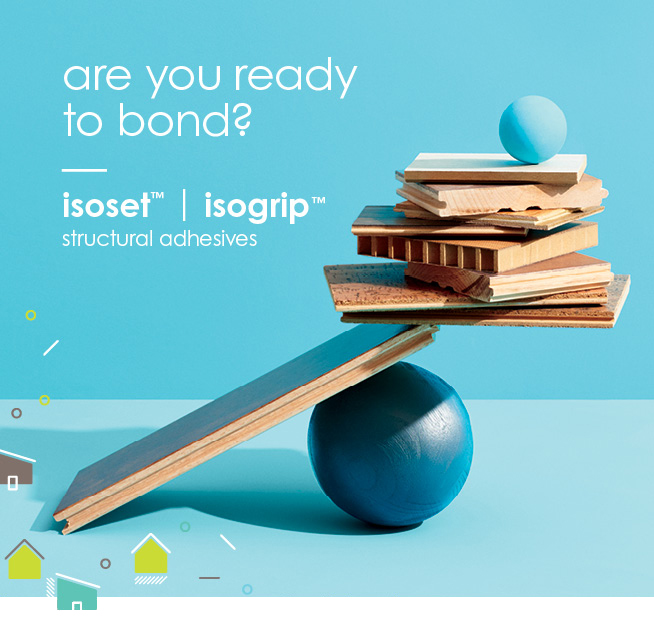 Literature
contact us
Isoset™ structural adhesives
Isoset™ structural adhesives are two-component systems consisting of a base emulsion polymer and a crosslinking agent. Used in the fabrication of wood components such as structural finger joints, I-joists, laminated veneer lumber, vertical studs and glulam beams, Isoset adhesives are also used to bond sandwich panel components. Suitable for bonding everything from various wood species, gypsum wallboard, hardboard, particleboard and pl...
Isogrip™ structural adhesive
Isogrip™ adhesives are user-friendly adhesives that chemically react with the presence of moisture to form a thermosetting bond. Made up of one component, 100 percent solids, they contain no VOCs or formaldehyde and are non-flammable. In a typical application, Isogrip™ adhesive is coated onto a core material and misted with a controlled amount of water. The core is then covered by the skin substrates and a stack is made. The stack is ...