Fire Retardant Materials
Pushing the boundaries of architecture and art
In its quest to find market-driven solutions, Ashland has combined its expertise in composites with its knowledge of fire and smoke retardant materials to provide safe, yet beautiful materials for both residential and commercial buildings. Extensive testing by our analytics and technical teams ensures the integrity of these materials. To meet the alluring designs of today, these materials can be shaped, curved, molded, corrigated and ribbed to create innovative patterns and design that also meet strict building and fire codes. And, due to the innovation of composite materials, they require very low maintenance. Our resins, when applied in architectural settings, help create eye-catching and award winning and (better yet) life-saving and damage-reducing designs while saving you time and money in maintenance.

Specified by both architects and engineers, Ashland resins offer lighter weight and cost effective alternatives to traditional construction materials such as steel, aluminum, wood, stone and concrete. Able to be curved, corrugated, ribbed, textured or contoured, these unique products create beautiful designs while adhering to building codes. Research shows that pound for pound, fiber-reinforced plastics (FRP) provide strength and resistance to severe and extreme weather conditions.
Beacuse they are lightweight, cost-effective, corrosion resistant and virtually maintenance free, architects and engineers specify Modar resins over more traditional building materials such as steel, aluminum, wood, stone and concrete. Ashland's line of resins and composite products offer lightweight, cost-effective, corrosion and fire resistant solutions to your construction challenges while creating award winning and functional designs.
Ashland resins are used to manufacture a wide variety of fire and low-smoke composites that are often specified in some architectural applications including: baseboards, columns, doors, facades, grating, ducting, light poles, moldings and cornices, planters, railings, stairways and window frames.
Modar™ resins can be used wtih all composite fabrication processes including:
Hand lay-up
Spray-up
Resin transfer molding (RTM)
Compression Molding
Pultrusion
Filament Winding
In addition to being fire retardant, composites offer:
Strength

to design strong lightweight products with maximum strength as determed by the design
to absorb blows from the force of a bullet, explosion or flying debris in a storm



Flexibility

to be fabricated into virtually any shape or configuration
to mimic the appearance of other building materials including steel, stone or wood at a fraction of the cost
to be installed without the use of special equipment



Durability

to out-perform traditional materials by retaining their shape, size and function even in extreme conditions
to offer long-term performance with little to no maintenance for oveall cost savings



Additional benefits:

Composites don't easily conduct heat or cold thereby providing excellent insulation to help reduce energy costs
Composites don't conduct electricity and are not magnetic making them ideal for electrical utility poles, cable trays and third rail covers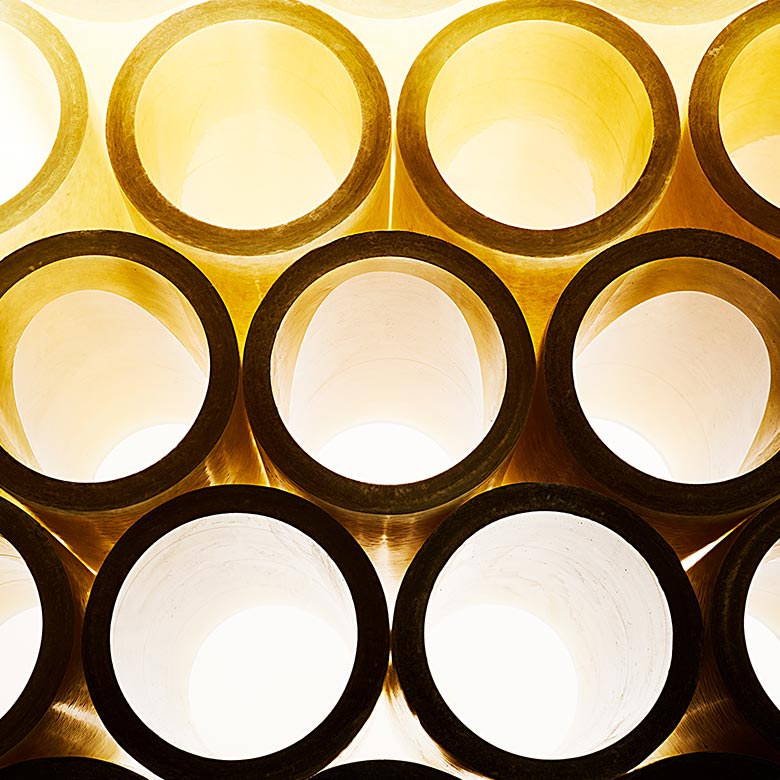 Derakane™ epoxy vinyl ester resin
Hetron™ and Modar™ fire retardant resins
Enguard™ FR series gelcoats